Happy Sunday, everyone! As I discussed in my last post, I'm not training for anything. Right now, I just like running. I might want to run fast, or I might want to run slow. I just don't know. The world is mine!
I got back from California on Thursday morning and I felt a little out of shape to say the least. I ran while I was there, but I wasn't capable of running the miles needed to break even from all the pizza and junk that I ate.
I was pretty worn out from a red eye flight on Thursday, so I didn't go to work. I had Friday off too, so I guess I came home to a 4 day weekend! I ran a few miles on the treadmill on Friday (one on the manual treadmill, which is unpleasant but they say is good for me). On Saturday I ran my longest run since the injury, a 5 miler!
Running buddy Wade and I decided to run a lake loop on Sunday morning, and then it hit me. I ran 3 days in a row. I had to look back for the last time I ran 3 days in a row and that was back in August.
I'm going to try something new. I'm going streaking. I don't care what the distances or the paces are, but I'm going to run SOMETHING every day until I don't feel like it anymore. I might only run a mile, but I'm running.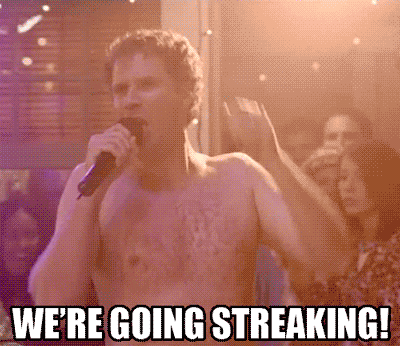 Anybody else have any streaking experiences to share (running or otherwise)? I'd love to know how it went.