Happy Friday! The first week of 2021 seems to have taken over right where 2020 left off. I could write about the sad and awful things all day long but there's PLENTY to read about that elsewhere, so I'll stick to running things. Today, we're gonna talk about POOP. More specifically, we're gonna talk about poop during runs.
I know, I know, poop is gross. We don't talk about it at the dinner table. It's very real though, and everybody does it. If you run regularly, I guarantee you that the poo monster has come knocking at your back door at least once.
With my running friends, we've set up a system where we can speak of poop during our runs (and sometimes afterward) without having to say its ugly name. There are various levels and each level has a specific meaning. Today, I'm taking a little time to explain these levels so that you too can know what I'm talking about.
Levels 1-4 – These levels do not exist. It goes straight to Level 5.
Level 5 – You are now aware that you didn't get the job done pre-run. You have a poop on deck. No pressure though. You have time.
Level 6 – Mild discomfort. Your tummy has gone yucky. You are fully aware that you need to go and it's pretty much all you can think about.
Level 7 – Pretty much the same as Level 6, but worse. You can run through this, but it's no longer a fun run.
Level 8 – Still running, but there's clenching involved. Keep that butt tight! At this point, everybody knows what's going on. There's some laughing, but you can't join them. Joining them could mean leveling up.
Level 9 – You can't run anymore. You have to stop and take a walk break. Maybe that will level you down for a while. You're asking everybody where the nearest port-o-potty is, unless you're one of those nasty trail runners that goes where they please. Just kidding, trail runners.
Level 10 – Poop is imminent. If you haven't managed to find a place by now, you are in trouble. If you try to run at this point, YOU ARE GOING TO POOP YOUR PANTS. There's no going back now.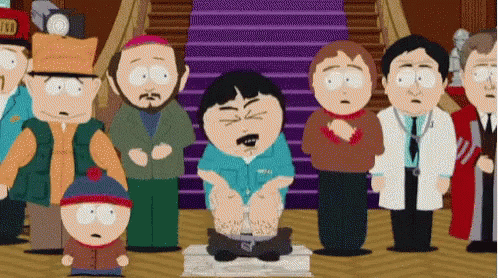 Now you too have the expert knowledge needed to assess poop levels. Use it wisely. Have a good weekend!