Disclaimer: I received a free race entry to run the 2020 America Runs 5k as part of being a BibRave Pro. Learn more about becoming a BibRave Pro (ambassador), and check out BibRave.com to review, find, and write race reviews!
Here we are…August. It's crazy to even read that. 2020 has obviously been a year like no other and most of us are ready to put up the holiday decor and get this one over with. Normally, I'd have run several races by now and I'd be itching to rev things up for fall. I've been in a rut when it comes to my running (which isn't ALL bad). I've wanted to get to work with track and tempo days, but the nice and easy miles are just so nice and easy. With nothing on the calendar, it had been too easy to just stay easy.
I was given the opportunity to sign up for the America Runs 5k and to be honest, the first reason I signed up was for the SWAG. I truly am a sucker for the red, white and blue.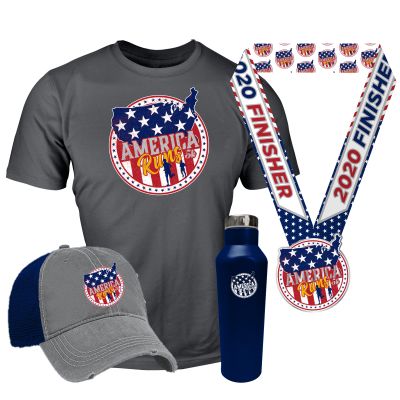 Goodies are certainly nice, but there are other reasons to sign up.
The race is partnered with the Gannett Foundation to donate to local COVID-19 recovery funds with a goal of $1 Million in donations. For more information, check out the Gannett Foundation website!
The other reason for me personally is to have something marked on the calendar. I made it a goal of mine to break 19 minutes on a 5k this year. I'm not close right now. I need to put in work. The cool thing is, I'm free to go for it on any day between now and 9/30 and log my results. I've started picking up the pace on my runs and I figure if I give it another 4 weeks or so, I might just go for that goal!
If after a few more weeks I find that I'm still not quite there yet, that's ok too. I'll get to go for a run. I'll have some top notch SWAG. I'll help what I think is a good cause. 🙂