Hello friends! I hope you are all staying safe and keeping your distance. We are in some tough times. My kids are at home for the next couple of weeks, so my wife is working much harder than she expected to. I'm just glad we are fortunate enough that she can be there. I know there are many others that are having to try to figure out just how they'll get through all of this. My prayers are with them.
As I posted a day or two ago, Shamrock is canceled. I still have one race left that hasn't cancelled on me yet, so I'm remaining hopeful. As of now, I'm training as if I'll be racing.
I guess that means I'll be recapping weeks as if I'm training…
UPDATE: Just found out Blue Ridge is cancelled… I'm bummed, but there are bigger things in life to be sad about. 
Monday – I ran an 8 miler with MC and remembered 2 things: 8 miles feels extra long on Mondays and Nike Frees are a GREAT shoe. They really feel amazing for any distance up to a half marathon.
Track Tuesday – I called this "A not so awful track workout" mainly because I messed it up. I was supposed to do a fast mile, then 4x200m and repeat both. I did two fast miles then 4x200m just once. My bad.
Wednesday – No running, but this was a DOOZY of a workout. I usually don't post these but if you want to suffer, try this one. It was meant to be 6 sets, but I only managed 5. I TOTALLY had the stamina to do another one, but I ran out of time. No one can prove me wrong.
Deadlifts x6
Rows x6
Split Squats x6
Dumbbell Bench Press x6
Ab Wheel x6
Squat Press x6
I was wrecked until my Saturday run!
Thursday – This one was 6 miles with a some strides at the end. I was flying in those strides and they felt great, but my heart rate was CRRRRRRAZY. I'm not sure I trust it sometimes. Of course, people were worried that I'd be Lynchburg's patient zero with "The Virus", but I'm feeling just fine thank you.
Friday – Appropriately named "Unpleasant", this was a total of 5 miles made up of 5 repeats up and down ol' Monument Terrace. Bleh.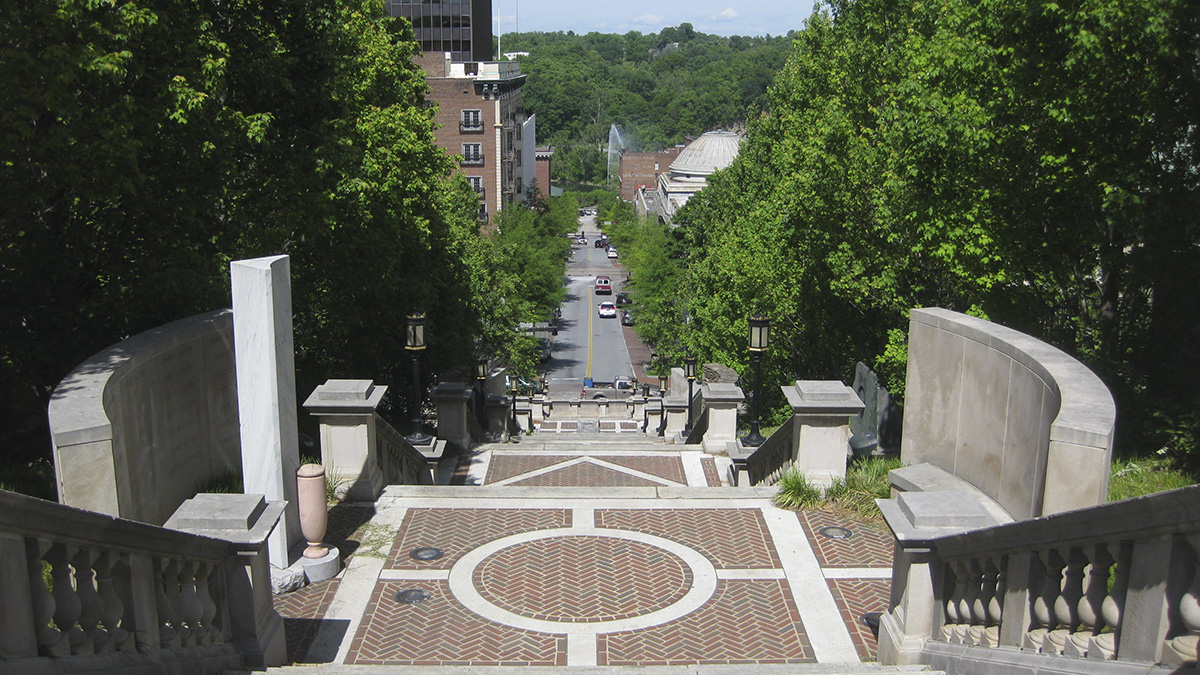 Saturday – 14 miles with running buddy, MC. She agreed to join me on a tour of my neck of the woods and it did not disappoint. We had some amazing views, the weather was just about perfect and I made sure to include a lake loop in the route. 🙂
I had dead legs for most of the run, but our paces certainly didn't show that. It was one of those runs where everything seemed to go right (nobody had to go to the bathroom, or anything!).
Sunday – 5 "easy" miles with Brooke and some coffee. They weren't easy. My legs were (and still are) toast. I'm hoping that I get my legs freshened up by this weekend, so that I virtually kick a half marathon's butt. We shall see.
So about this "every race is being canceled" thing…I know I'm not the only one dealing with this. We've got each other, runners. To the outside world, we probably seem self-centered and whiny when we vent about our race plans being altered. I get that. We know though. We know how much time, effort, sweat and sometimes blood go into a training plan. For that, we deserve just a little bit of time to be sad.