It's Sunday morning and I didn't have to run (thanks Coach), so what better time to write a post? Daylight savings robbed us of an hour, but I went to bed pretty early to prepare for that. 🙂
This extra rest day was definitely earned, since I busted out a 20 miler yesterday. I was SHOCKED at how well it went AND how my legs felt afterward. I'm becoming a firm believer in the power of a nice, hot Epsom salt bath post-run. Try it. You'll love it. More on the run later…
As usual, let's recap the week in running! Let me say, I very much appreciate those of you that continue to read through all of this. I use it like a journal of sorts, so I know it can probably get borrrrrrring.
Monday: Titled "I need my lungs back", I was STILL battling whatever decided to make a home in my lungs. I can't remember if I ran this one alone, or if Brenton was with me. It's hard to tell, because BRENTON REFUSES TO HAVE STRAVA. I actually think I was alone though, based on the horrible pacing.
Tuesday: 8 miles with 6 of them at half marathon race pace. I asked for this. Bleh. My first couple were a little fast and my last couple were a little slow, but all in all this was a good effort. I still wasn't quite 100%. I'd have been pretty happy with this run, except that I finished with a BLOODY SHOE…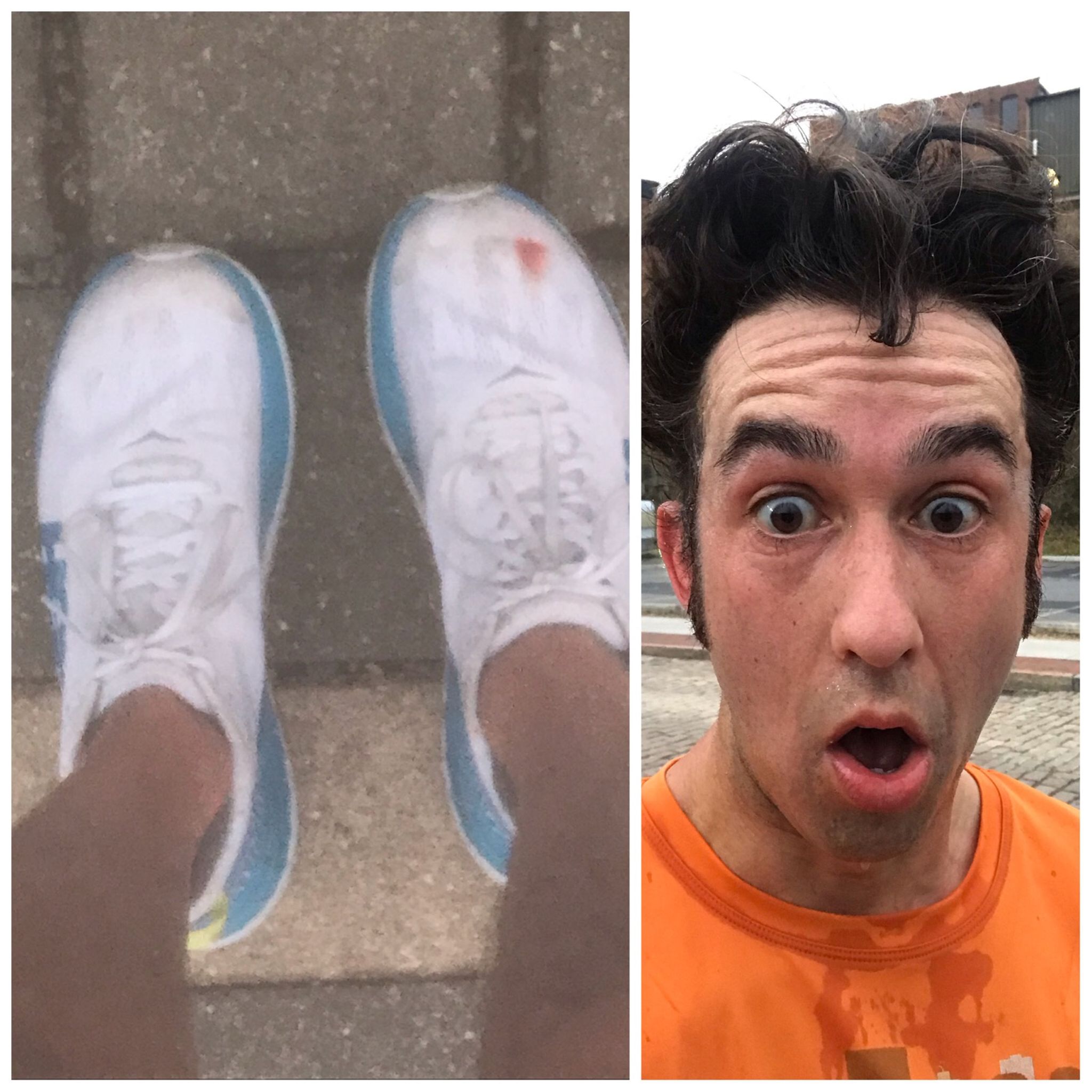 Mystery blood is fun! I had NO idea what was waiting for me when I took my shoe off. Turns out, my toes were just a little scrunched together in these shoes that aren't quite wide enough and the corner of one toenail dug into another toe. Fun. I guess I can still wear those shoes (cause I do like them a LOT), but I better stay on my toenail trimming game.
Wednesday: Weights only, no running.
Thursday: 5 miles with 6×800 hill repeats. Double bleh. These were TOUGH. They were so tough, I wasn't sure if I'd made a mistake and done something that Coach Craig didn't have in mind for me. She told me it was EXACTLY what she had in mind for me and it was supposed to be tough. Thanks, Coach. It was a quarter mile up, a quarter mile down, repeat. Die.
Friday: 6 pretty perfect miles. It was Friday. I felt super rested. The pace was just right. I had good company. There was coffee afterward. They don't get a lot better than this.
Saturday: 20 miler. The big one. I have a tradition of sorts to "test" (does the title make sense now?) my overall readiness for a marathon when I'm training. I like to run the Virginia 10 miler course two times back to back. It's a real confidence booster to be able to handle a pretty tough course x2. This might have been the best that it's ever gone for me. I truly believe that all of the work being put in is paying off! I have a great training plan, I've been hitting those weights and those hills and I've even been taking care of my body with more sleep and (slightly) better nutrition. It's all coming together!
Well, that's it. 45.1 total miles this week. I ended up with 193 miles in February (sounds like a lot) and 11,817 ft in total elevation (also sounds like a lot, though I never cared before this year).
I'm getting REALLY close to some race days. Will I get nervous? Of course. When I do, I'm going to look back at these posts and see for myself that I am READY.