Ahoy hoy! It's Monday and it feels like it's Monday. I have a doctor's appointment today to check into a cough that I just can't shake. I'm hoping that I've been running at a low lung capacity and that once I get this fixed, I'll be FLYING.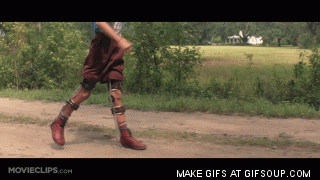 Let's quickly recap last week's marathon training, so that I can get to the point of this whole thing…
Monday: Only 4.1 of what was supposed to be 5. I scheduled an early coffee time and couldn't quite get myself moving early enough to make it, so I cut the run a little short AND ran a route around where the coffee shop is to save time. It was an unpleasant route, both for boredom and for risk. I'll just get up earlier next time.
Track Tuesday: Titled "Some weirdo track workout" because that's what it was, but as Coach Craig says, "There's a method to the madness." This one was 200m fast, 200m jog, 200m fast, 400m jog, 400m fast, 200m jog….repeat x4. The 200m pace wasn't too tough. What made the workout tough was following up with the 400m at basically the same pace. It felt SO long.
Wednesday: No running, only lifting.
Thursday: Bubble gut. Bleh. This one was a total of 7.5 miles with some drills built in. Coach Craig joined me for some of the miles and also made sure I did the drills. I had a tight hamstring, but it seemed to work itself out. I learned that my old Clifton 1s are about worn out. They look fine, but I can feel things I didn't use to feel when I run in them. I'm not one to take chances, especially when I have a gazillion other pairs to choose from.
Friday: This one was nice and easy. I had good company and a good pace. My post-run coffee plans downtown are all messed up because the ONE coffee shop that opens at 6:30 decided to change to 7:00. I won't name you, Dublin.
Saturday: 18 miles with 12 at MP! I hadn't run 18 miles since the Rehoboth Beach marathon back in December of 2018. I had forgotten the pains of running for nearly 2.5 hours. All in all, it went well. I fell apart a bit for the last 3 miles that were supposed to be easy. They weren't. I took an Epsom salt bath for the first time and I think I'll be going back for more of that.
Sunday: 6 miles with some strides at the end. I ran home from church (there's something better about miles where you're actually GOING somewhere) and kicked it some to finish off the run, as directed by Coach. I was surprised at how good my legs felt. That Epsom salt stuff might work!
Well, if you made it this far, thanks! The total was 46.7 miles. Things are coming along nicely. 🙂
So, back to the title for this week. I've seen occasional posts on social media that seem to be complaining about runners' complaining about running (you with me?). It's kind of a "if you want to complain about running, why run at all?" mentality. I get that thinking, I really do. Here's why I disagree.
RUNNING IS SUFFERING, to some extent. I know it doesn't have to be but for most of us, I think it is. We set goals. We push limits. Even the fun runners out there experience tough times on a run, but they finish anyway.
We train hard to be ready for the next race, often while rearranging our "regular" lives to do so. We lose sleep. We don't always get to nap when our body is begging for it. We don't always get to spend 30 minutes stretching after a tough run because we used every spare second we had JUST to get the run in. Sometimes, it's just about surviving.
So yes, I think it's just fine to hate running once in a while and continue to do it anyway. I'm happy to listen to anybody that wants to complain about their last run or their next run. I'll be even happier to listen to anybody that tells me they did what they set out to do and every bit of those tough times was worth the pain. 🙂