Hello and Happy Sunday! I've finished up my 5th week of marathon training and woah was it a doozy (doozy is SUCH a dad word, so I'm gonna own it). I'll recap the week in training, but most of this post is about just one of the runs. My long run this week was something that I'd never tried or never thought to try (thanks Coach Craig). It's worthy of some thought.
Monday: 6 miles in the evening for a change. I'm a morning runner for sure, but after watching the Chiefs win the Super Bowl and eating a pile of food, I needed the extra sleep. Evening running is always challenging for me. My motivation seems to drop off every hour and then there's dinner. I'm ready to eat by 5pm (yes, I'm old) and the idea of waiting until 7pm is not great for me. I sucked it up though.
Track Tuesday: 6x800m and a total of 6.4 miles. The goal was 3:10 per 800m and I hit 3:07, 3:05, 3:10, 3:10, 3:10 and 3:07. I expected them to be easier, but at least I hit them. Since I was still somewhat recovering from the climbs of last week, I figured this was a great effort. 🙂
Wednesday: Still a rest day…from running at least. I GET NO REST.
Thursday: This one called for 6.5 miles with 5 miles at MP and a hilly finish. The miles were tougher than I thought they should be, but I got them done. I had a near miss with a sudden need for a bathroom stop. I called it a Level 10 (I'll explain the system below), but it was really a level 9.
Level 1-4: All the same really. All is well with the ol' digestive system. There will be no need for a stop.
Level 5: Awareness that there's something on deck, but no urgency.
Level 6-8: A gradually increasing feeling that you've gotta go and it's time to start making the appropriate arrangements. There is overall discomfort and some effort is needed to maintain a poop-free run.
Level 9: Potty imminent. No time to dilly-dally. It takes legitimate effort not to poo. Pace is slowed and focus is lost.
Level 10: You're going somewhere. Hopefully not your pants. The ability to run is lost. Stopping and walking may get you down to Level 9 again, or it may not.
I hope that helps, or at least gives you a chuckle. It might gross you out. As a reminder, everybody poops.
Friday: 6 fairly easy miles in some fairly bad weather. I believe somebody missed the alarm to join me for this one. I won't name names, but she owes me a coffee.
Saturday: 15 miles of Lake Loops! This workout is the kind of workout that will help you find the next level. I'm convinced of that. I'll speak more to this one below.
Sunday: 5 easy ones and plenty of laughs over coffee. 🙂
Total: 44.9 miles! There was a time where that ".9" really would have bothered me, but I'm ok with it. I AM. I PROMISEEEEEEE.
So back to that Saturday run…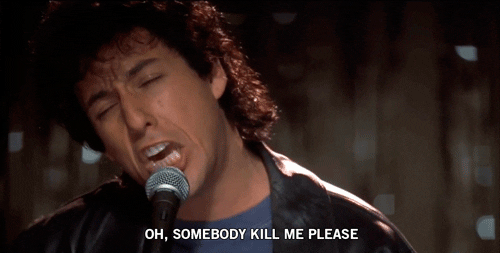 15 miles is nothing new, but the structure of the workout was brand new. Lake loops are nothing new, but repeating them around 5 times was brand new. "Rolling hills." Bleh.
Coach Craig had us (running buddy Michael came along, thank God) break it up with 1 mile easy, 3 miles at marathon pace (about 7:30 for Blue Ridge), then 3 miles at 1/2 marathon pace (about 6:50 for Shamrock). Suffer. Repeat.
This workout was tough, but mentally AND physically. 3 miles was enough time to get comfortable with the MP only to have to speed it up quite a bit faster, all while hitting some soul crushing little climbs that seemed to be scattered throughout. Factor in that you're doing the same thing over and over (we at least changed direction sometimes) and it's a real test. We did well though.
I have a goal of breaking 1:30 in a half this year (hopefully soon). This run gave me some major confidence. I can do that. I WILL do that. This run is gonna make me…