This week has been a weird one. The 4th of July (hope you all had happy ones!) meant a Thursday off in which I had to go back to work for one day, since I didn't really have any vacation to burn. However, the office gods smiled upon us because our power was out! I worked from home anyway. The other weird part was a race on a Thursday.
I started the week with a track workout. Track Mondays are a thing every other week until October. I ran 4 x 200 and 4 x 400. Brooke had it planned for us to do another 4 x 200 after that, but somehow I kind of didn't hear her, or didn't want to hear her. What we did was good enough for me. The speed was there and that's AWESOME. However, I was drained a bit quicker than I used to be. I take that as a sign that I can get back to where I was, or better. It's gonna take work though.
Tuesday was a 4 miler that was supposed to be easy, but really wasn't. Brooke and I didn't work that hard, but the paces were probably 30 seconds a mile faster than I wanted to run. Brooke tripped on the bridge. There are various theories as to how, but I promise that I wasn't responsible for it (at least not intentionally).
I was wise enough to not run on Wednesday, although I did train with Jill against my better judgment. I have to give Jill credit, she came up with a challenging workout that helped loosen me up a bit and didn't cause me any trouble for race day. Thanks Jill!
I kinda did things right the night before the race. My meal was big, but also consisted of the right things. I skipped dessert and I skipped the beer. I hydrated. I got a good night's sleep.
The next morning I did my normal "routine" and felt light and fresh. I was quietly confident and had no pressure to perform. I planned to run by feel and hope for the best. Coming out of the gate, I may have gone out a little on the fast side with a 6:21 first mile. I could feel myself starting to panic a little. My lungs felt topped out and I started to breath heavier. I told myself that I needed to hang in and it would start to feel more normal. That really was true. I calmed down some and steadied out. Next mile, 6:34.
The discomfort of running at that pace started to feel like something I was willing to endure for longer. I ran through another mile at 6:36. Wow. I was thinking maybe, just maybe, I was ready to shoot for my first PR since the injury. Nah. The weather finally overtook me between miles 3 and 4. It became must harder to focus. The markers seemed farther apart. I managed a 7:01 though, which was a victory in a way. I've stopped when feeling not as badly as I did for this one.
I really wanted to take my age group for this one, and I knew at least one great runner wasn't far behind me. I used the thought of having to battle it out with Robbie as my fuel to keep me pushing. I surprisingly managed to maintain my pace and hit the gas a bit at the end to make sure there'd be no surprise photo finish at the end of this thing.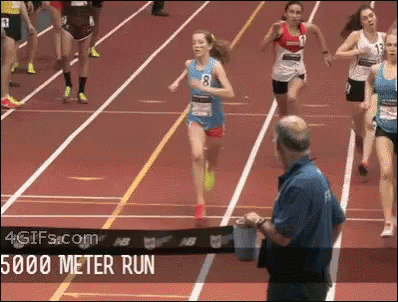 I managed to finish in 33:47 and 12th overall, first in AG! It's not a PR, but it's a building block. 🙂
It was a good day for quite a few of the runners in town that go by the Hill City Harriers. There are too many to mention, but Brooke had the idea of a group pic with the American flag behind us. Those of you that left already will just have to photoshop yourselves in. 🙂
There was suffering in this race. It was an excellent reminder of what it's going to take to get to the next level. I think I'm ready…