Happy Friday! My "half day" at work today was filled with work following me home. That'll happen occasionally, I suppose. No complaints, I love my job.
This morning was 2 easy miles and the 3rd day of a run streak that I'm doing in a team effort with my BibRave peeps on Strava. Check it out here if you want more info.
At this point, I'm sure you're thinking, "What's up with the title, Randy (Ralph)? What are you talking about?" Well I'll tell ya. It's about hope. It's about believing that I can get back to where I once belonged.
I ran two half marathons in the last couple of months, which for me is something. In my time as a runner, I've run almost as many marathons as I have half marathons and I hadn't raced a half marathon since before I tore my achilles.
In March, I ran Shamrock (recap here, if you're REALLY bored). This one was a surprise entry. I hadn't trained much. I had put in the long runs to get by and finish, but I certainly hadn't TRAINED like I normally would. No track, no tempos. I finished in 1:36-something, with two potty breaks. I was pretty happy with that.
In April, I ran the Kentucky Derby Festival miniMarathon (read here, if you have absolutely nothing else going on). I broke 1:34 on this one. I was pushing toward a possible PR pace for the first 8 miles or so, until I couldn't. This wasn't unexpected, based on my training, or lack thereof. The point is that things felt right for awhile.
It's time to train, for real. I'm going to the track next week. I'm going to start running tempos. I'm going to work my butt off. Let's do this.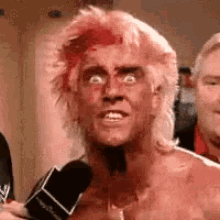 1:33:56 is a long ways from my 1:30:07 half marathon PR, this I know. However, I know what it takes to run that 1:30, and I finally feel like I can say with some certainty that I'm going to get there. Let me say it now – I'M GOING TO GET THERE.