Happy Sunday to you, my friends! I finished up another week of running that you could sorta call training, but not really. I finished the week up with 27.7 miles (not a round number, crazy I know) and still haven't had a 30 mile week since Rehoboth Beach.
This week's post title is from a song that not everybody knows. If you DO know it, you will be on my awesome list for life! No pressure.
I'm pretty excited to have my good friend Cody back in town, for good. He moved to TN not long ago, but decided that it wasn't home and to make a long story short, he came back. His old job working in our group was still available, so he basically got a do over. We're all pretty happy about it. What even MORE exciting is that Cody is running with me at what will be his first half marathon at the Kentucky Derby Festival next month.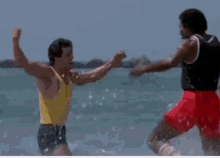 Last week had its complications, since Jen flew out to LA to visit our great friend, Suzy. I was a single dad of 3 for a week , so at times I had to get my runs in when I could. Jen came back pretty refreshed, so I'm pretty happy about it. It was awesome to have time to myself with the kids too. My first full day with them was a snow day 🙂
I JUST realized that I didn't post anything for the week before, and this kinda combines two weeks. Life was quite a blur.
As far as this week goes, I ran 1.9 treadmill miles on Monday. I just ran out of time, really. I respect Ben's nap time, so I took what I could.
Wednesday, I waited until after work to run, since I had a kettlebell workout that morning. I'm not sure what got into me, but I went hard for 2 miles! For as laid back as I've been running, it was cool to see a 6:14 mile! This and some warm weather will make me want to start speeding again. 🙂
My trainer thinks that kettlebells deserve the credit for my speed. I think she might be right! I do feel like I have a bit more power and kick when striding out.
Thursday was a 5.2 mile coffee run with Cody, Brooke and Emily. We dragged poor Cody through it, since he hasn't been running as much as he'd like. Moving and changing jobs (again) are kind of a big deal. I promised him that we'd have him ready for Kentucky though. 🙂
Friday was a rest day and rest I did. I went to a Mardi Gras party, which was a TON of fun. The food was delicious and we played college level party games. There was beer pong AND flip cup. Let's just say, I still got it!
Saturday afternoon I ended up with 6 miles at a pretty good effort. I averaged 7:39 a mile, which I was pretty happy with, but my legs felt DEAD. I glanced at my training plan even though I haven't really been following it and it called for ELEVEN miles. That made me feel guilt. Luckily, I had friends running 10 miles on Sunday morning 🙂
The 5am start time is tough, but it's SO worth the effort when I get to run with Alissa, Wade and Morgan! I hope one (or all) of them reads this. We always have great conversation and they help me with my pacing, which everybody knows I'm bad at.
I feel like the 16 mile weekend got me back on track with regards to my training. I might actually get back to using my plan!
I hope everybody has a great week. Anybody else struggling with the drive to run fast or stick to their plans?